Your guest in complete control of the experience
Interactive TV, App, Web and QR Code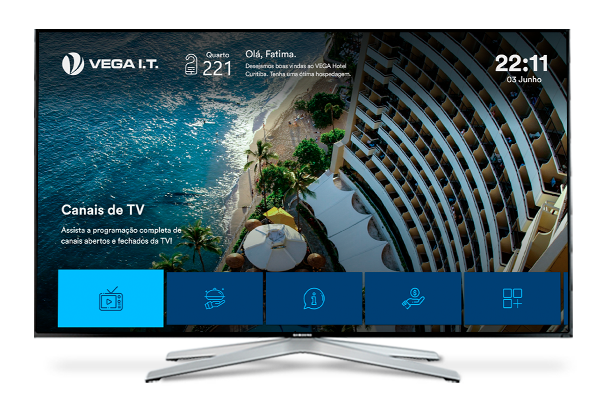 VEGA TV | In-room entertainment
Customize your guest's experience, from a "welcome" message when they arrive in the room to the possibility of ordering room service with one click.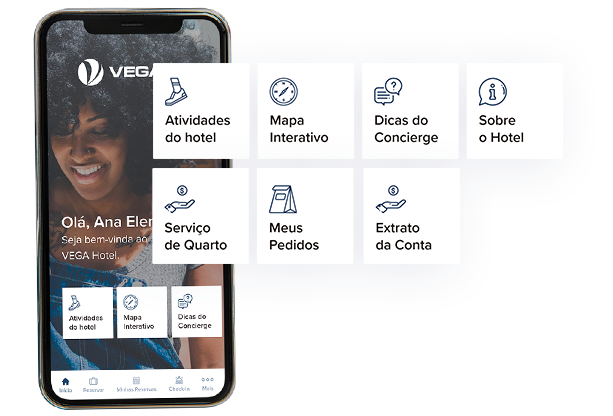 Mobile app
Explore features like push notification in an exclusive app for your business and start communicating with your guests even before they check-in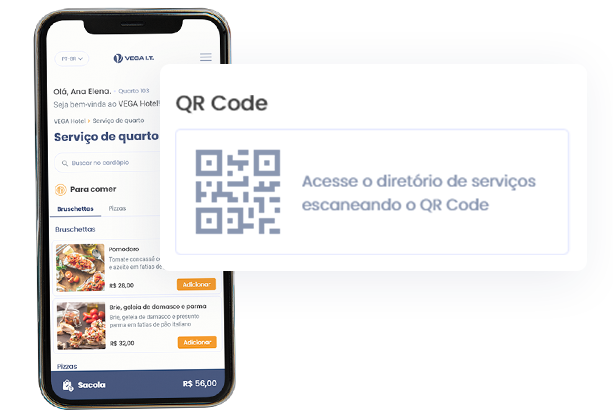 Web page with access via QR Code
Count on the QR Code to share your directory of services on a web page, save on digitizing services and sell more.
Check out all the features below
Directory of services
Useful information about the hotel's services and amenities.
Compatible with:
Concierge Tips
Special tips to help guests to plan their activities.
Compatible with:
External Applications
Apps like Netflix, YouTube and Spotify at guests fingertips
Compatible with:
Account extract
Consult account statement through integration with PMS
Compatible with:
Room service
The menu and room service options available on all devices
Compatible with:
TV channels
Programming of all TV channels
Compatible with:
Reservations
Direct reservations through the app without paying extra commissions for OTAs
Compatible with:
Multi-language
The guest can choose the language of the platforms according to their preferences
Compatible with:
Customization
Customize the platform according to your branding
Compatible with:
Chat
A message communication channel with the hotel staff
Compatible with:
Interactive map
Interactive maps with routes and information to plan activities
Compatible with:
Programming of activities
Register the schedule of activities, events and attractions
Compatible with:
Notifications
Send important notices and push notifications to your guests.
Compatible with:
Talk to our team of experts
and find out how Hotel Experience can help you improve the guest experience and maximize the revenue of the hotel.
Our solutions are present in all stages of the guest's journey